10 tips on how to hire on Upwork
10 tips on how to hire on Upwork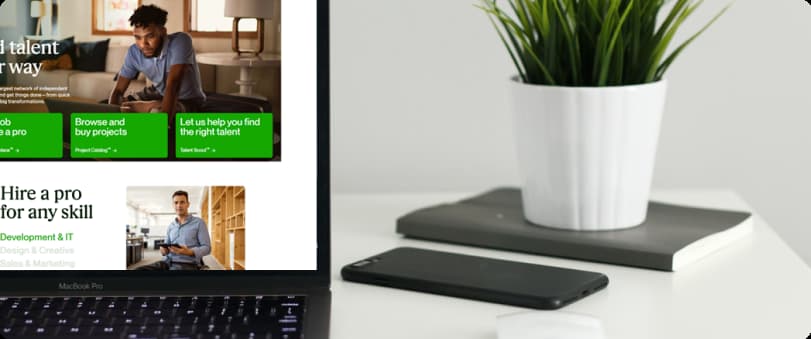 Upwork is an effective way to hire people for your startup. It's a simple tool that will help you reach a large audience regarding your job offer since there are so many freelancers registered on the website. But it also has its disadvantages. Since it is relatively simple to register on, it is full of bad or inexperienced candidates. Filtering through tens or sometimes hundreds of proposals full of bad seeds can get really tiring and time-consuming, so here is how to make the hiring process more simple and effective.
Let your potential hires know why this specific job might be interesting for them. Can they learn something new and niche? Can they develop new skills? If that's the case, make sure that your job offer highlights that. The more freelancers you manage to get to apply, the higher the chances of getting someone that's actually good. Try using words like "team" and "team-member" to make the offer more approachable.

Approaching your job offer this way shows that you respect and appreciate their work and that you're dedicated to creating a collaborative environment for them. If your job offer on Upwork makes it seem like you don't really care about who you're going to hire as long as they get the tasks done, chances are a lot of good freelancers will overlook your offer.

Always put some small task in the job offer to filter out freelancers who are not qualified for the job. People lie on their profiles a lot, so you can't just rely on their resumes. Make sure that you request to see what they can actually do before you schedule an interview. The task shouldn't be too time-consuming, but it should be substantial enough that you can get a rough idea of what the freelancer is capable of. Usually, you will have a lot of applicants, so it's better to conduct lengthy interviews with the chosen few.
Find a creative way to ensure that your applicants have read your job offer fully. You can put an additional request at the end of the job posting - for example, you can ask them to put the word "unicorn" at the beginning of their application to let you know that they have actually read the whole job posting. You want to hire people who actually care about the job, at least enough to read the whole offer. There are a lot of freelancers who apply to any and every available job, and they are usually not that professional. If the applicant forgets to put the special word in their application, you should not disqualify them immediately, but it could be one of the indicators that you are dealing with an irresponsible person.
Sometimes hiring freelancers that are new to Upwork might be better than hiring seasoned professionals that have worked on the website for years. While this might be riskier since they don't have a track record on the website, freelancers who are just getting started have way lower rates and are usually much more motivated to work and develop with you. Professional freelancers will have higher rates, they are also less likely to care about your project or be willing to change or improve their skills to match your vision.

Unfortunately, Upwork ratings don't tell us much about the freelancer. Since clients want to avoid any complications, getting 5 stars for a job is not that difficult.

Instead, what you should look for are comments that feel more personal, comments that the clients actually put some thought into. This should be considered in relation to how many hours the freelancer worked for the client - if they have worked together for a while, the review should be more reliable.

But even then you should not choose your freelancer based on other people's experiences alone. For example: If you are looking for a developer, their ratings will rarely be useful since a lot of clients don't know code. Their reviews will be based on the speed at which the developers added new features and this is not useful at all.

So look for exceptionally good or exceptionally bad comments, but don't rely on the reviews alone to pick your first candidate.

Always conduct an in-person video interview first when hiring for really important tasks. While communicating via messages is quite effective when doing the actual work, it's always good to see the real person and get to know their character before you hire them and that is best done during an in-person video interview. This will also help to weed out scammers and fake profiles.

For tasks that are relatively simple, consider giving a paid assignment instead of doing the interview. You can ask them to do something more substantial for the bonus and then if their work is actually good, do an interview later. Paying the bonus for a minor task will be worth it in the end.

To save some money, consider hiring from various geographical locations where your offer will actually be worth the effort for the freelancers.
It's always good to check the number of hours that your candidates are available during the week. While this can often be negotiated during the interview, if they are strict about their working hours and you need more or less than what they can give you, it's a waste of time.
Avoid working with agencies. Agencies can often complicate and prolong the communication process between you and your freelancer. Plus it is easier to evaluate the candidate when you can actually have a face-to-face conversation with them instead of talking to an agent or a manager.
Upwork offers an upgrade option through which your job posting can appear on the top of the feed. The upgrade costs $29.99 and is definitely worth it for the jobs that require special skills that not a lot of freelancers can offer. By utilizing this upgrade you will increase your chances of getting noticed by a lot of really good freelancers.