Setting up the home office
Setting up the home office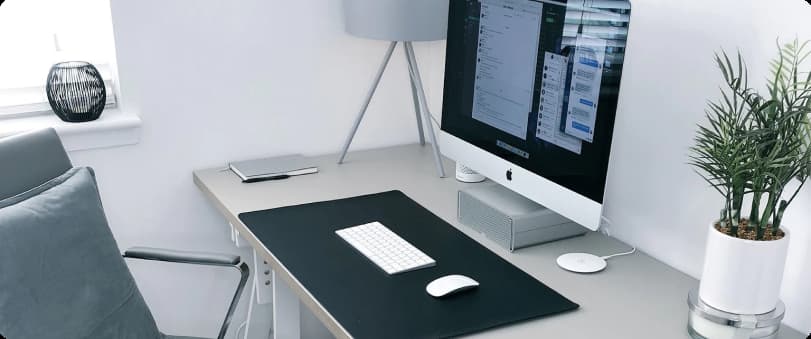 Whether you had to leave your regular office because of the pandemic or you are a freelancer who just started working from home, you know that setting up a perfect home office is crucial for your productivity. Having the right atmosphere will make your workdays much more enjoyable, so it's worth the effort.
Everyone has their essentials when it comes to the perfect office desk, but here we've combined some of our favorite home office staples guaranteed to make you feel more productive.
A good laptop or a desktop setup is a must. If you know that you will be working from home for a while you need to have a solid desktop setup, the one that is tailored towards you. Some people prefer laptops because they can move around freely and work from any room in their house. But there are many benefits to having a desktop as well. Having a desktop means having a designated space that you work at every day and getting into work mode is easier with a desktop at the table than in bed with your laptop. Either way, investing in a good laptop or a desktop setup that won't get on your nerves on a daily basis is a good idea.
Some people find having second screens helpful. You can use an actual second screen, an iPad, or even the extensions that offer you the split-screen option within your main screen.
Consider investing in a standing desk to alternate between sitting and standing. This is one of the latest additions to the home office essentials. Some people say it reduces back pain, helps to regulate blood sugar, and even keeps you from gaining weight. Spending around 8 hours sitting down is definitely not good for your health and a standing desk offers a nice solution.
Headphones to reduce outside noise or listen to great tunes - consider getting noise-canceling headphones, especially if you live with other people. One of the hardest things about working from home is that the office rules don't apply. Noise-canceling headphones will help you concentrate and get things done faster.
Good Wi-Fi is a must if you want to keep your sanity. If your current wifi isn't the best, consider switching locations to be closer to the router. Connecting and reconnecting and dealing with lags can drive you crazy, so it's worth being a little uncomfortable or paying a bit more to have a solid connection.
Use natural lighting - find the best lighting you can. Consider setting up your home office in the spot with the most natural light. If you have a nice view make sure to use that. Lighting has a huge effect on our mood. Having a lot of natural light will keep you more alert and attentive.
Add some personal touches to your home office. Finding something personal shouldn't be hard since, after all, you are in your own home. Create a more cozy environment with pictures, little figurines, plans, and colors. It will make all the difference, You will be excited to get to work every day.
Get organized! You can use any type of planner. If you like old-school notebooks feel free to use those. If you prefer doing everything online, there are apps and websites that will help you to get into your work rhythm. Staying put together and scheduling your work days will help you feel more productive.
While having a standing desk will help your back, a comfortable chair is still a must. After all, you won't be standing for 8 hours straight. This is an investment that will last you for years and also save you a lot of back pain. So do not take the cheap route and invest in the best chair you can afford to create a comfortable home office without damaging your spine.
As a bonus tip for staying productive at home, consider downloading some apps to help you stay focused. Working from home means more distractions and more excuses. When no one is around to check on you, you can get distracted easily. But on the other hand, when you work from home, it can be hard to switch off and rest. Productivity apps will help you time your breaks and will increase your focus during work hours.